Back to all posts
Posted on
Orange Shirt Day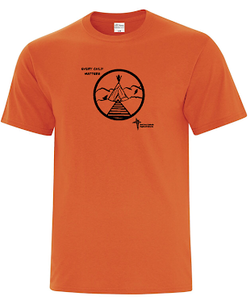 Orange Shirt Day is an Indigenous-led grassroots commemorative day intended to raise awareness of the individual, family and community intergenerational impacts of residential schools, and to promote the concept of "Every Child Matters". The orange shirt symbolizes the stripping away of culture, freedom and self-esteem experienced by Indigenous children over generations. It grew out of Phyllis Webstad's story of having her shiny new orange shirt taken away on her first day of school at the St. Joseph Mission residential school. It has become an opportunity to keep the discussion on all aspects of residential schools happening annually.
 Our division will recognize Orange Shirt Day on Thursday, September 29, 2022.
If you would like to purchase an Orange shirt for your child or self please fill out the attached electronic form. All orders will be done electronically and payment can be made to your school office by exact cash only.
All Orders are due by noon on Sept 19th, 2022.